Bungus Beach, Resembling a Crescent Beach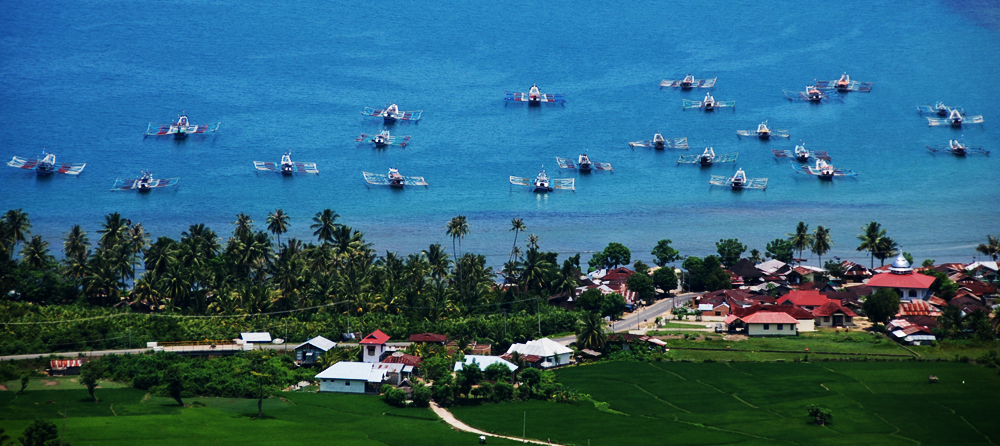 Bungus beach is beautiful natural scenery, the shape resembles a crescent beach. Bungus beach dominated by the Impressive hills which tower above the pleasant ricefield the crescent shaped bay is unspoilt. The beaches with white sand that is suitable and perfect place for a variety of recreation such as to relax, sunbathing, swimming or hire canoes, surfboats and snorkeling equipment and boats to the islands nearbay. The islands just 5- 15 miles to south of the beach. Two of them, Sikuai and Cubadak islands are developed as tourist resort. A short journey (4 KM) from losmen carlos Bungus beach is beautiful 3 pool waterfall set in A Tropical rainforst.
Getting There
Bungus beach located in a quiet bay Bungus, 20 kilometers south of Padang, West Sumatera. Just 45 minutes to 1 hour from Padang city by Opelet (minibus). Pick a blue Opelet in town for 5000 Rp started from 5.30 AM until 8.00 PM, Oplets or buses are available at oplet terminal. JI. M. Yamin in Padang. There is sign Bungus Teluk Kabung at the oplet shelter. Also, you can rent a manual motorbike in Carlos or Tintin for 50,000 or 60,000 Rp, depending on your bargaining skills. If you need more convenient way, takes a taxi.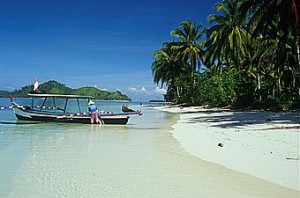 To Do
Beach umbrellas and chairs available for sunbathing. Warm seawater and is safe for swimming. From here, you can explore nearest ocean to the coast of Padang such as Sikuai and Cubadak islands. To get there, you can rent a boat or a sailboat in the Bungus citizens. From Bungus beach to the islands takes ± 75 minutes. If you do not want to wasteful of energy, enough to relax on the beach while enjoying the sunset at this amazing bay. Sitting under the shade of coconut trees surrounding the beach is also exciting, it was a beautiful palm beach. Or eat seafood and other dishes at the restaurants that dotted the shore. There is one activity that is often did the travelers of Bungus beach, which is fishing. There was silence waves will provide for your own pleasure. About the inn, there are resort around the beaches that you can use to relax after a day of sightseeing.
Accomodations
The beach is available tourist facilities such as beach umbrellas and chairs for sunbathing. There are many homestays along the beach with reasonable price and restaurants as well, here's some of them :
1. Losmen Carlos (
http://losmencarlos.blogspot.com
)
Telp. +6281363973411, losmen_carlos.bymaicheil@yahoo.co.id
3 Beach Cottages, with a nice view of the evening sunset.
There are basic rooms for Rp.100,000. With bathroom outside,
There are 2 rooms at Rp.75,000.
Pickup from Padang Rp. 120,000.
On the evening, if there are enough tourists, Carlos will pay a guitarist to play around a beach fire.
You can book an island day-trip for Rp.200,000 per person including lunch on the island.
2. Losmen Tintin.
Not far from Carlos, similar family guesthouse next to the beach.
Very basic rooms from Rp.50,000
Pagang Island, the Perfect Island
The most awesome and untouched island from West Sumatera, Indonesia, where located on the south coast area. Its white sand and blue clearwater bring the calm feeling and makes grateful thought toward the hard days in life. For those who seek serenity and the beauty of nature, Pagang is the answer.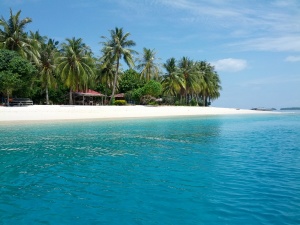 The attractiveness of the island brought it to a deserve phrase – a paradise island, but still few people visit it because this place is not well published. This breathtaking place is a dream island as well for water sport lovers. Clear blue sea water ever and amazing coral reef sites with variant colorful fish species. There is available a local resort assist for personal or groups to do the water sports such as diving, searfishing, snorkeling, and other excitement activities; parasailing and banana boat.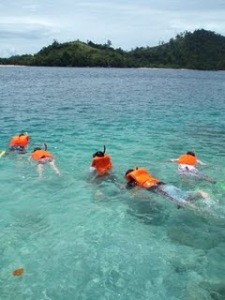 How to get there?
Padang as the capital city of West Sumatera is the first point to be reached. After arrived in the city, rent a car to Bungus Beach. At this point, rent a boat to Pagang Island.
If the started point from Minangkabau – West Sumatera, It is around one hour drive from Minangkabau airport.
Rent a taxi to go to Bungus if you stay in a hotel near the beach. If staying in a hotel in the city, take a taxi to Bungus, but it's costly. Arrived at Bungus Beach, rent the boat to the Pagang Island, its around 150 thousand rupiah.

By public transportation; get on ELF Car (shared taxi) from Pasar Raya Padang or near Pasar Raya Plaza. The fare is around five thousand rupiah. It just takes around sixty minutes. It is quite cheap. On the way to Bungus Beach, wonderful scenery will accompany visitors along the trip. The car will pass trough hills with the beach under them, welcoming the visitors. There are also small and cute monkeys in the side of the hills. Many people sometimes stop by just to give peanuts or bananas to the monkeys while taking pictures. Arrived at Bungus beach, rent the boat to the Pagang Island.
Malin Kundang Mural
Not far from the Malin Kundang Stone is a mural on this legendary story. The mural, drawn by local artist Dasril Bayras that depicts the rise and fall of Malin Kundang – from his childhood, his journey to Siam, his marriage, his return to Padang and finally his misfortune when he was turned into stone. Those who are not familiar with this folkfore can understand the story line by looking at the mural.
Actually they are few versions of this Malin Kundang story. Another similar version which is well known in Malaysia is about a man named Si Tanggang who, just like Malin Kundang, rejected his mother after making a fortune and later was turned into a stone (or a bird in another version of this legendary story). The Si Tanggang story is said to happen in Batu Caves or Batu Gajah in Malaysia. However, unlike here in Padang, there is no evident like the Malin Kundang stone there that could support this man-turn-into-stone claim.
The Malin Kundang/Si Tanggang story was also made into films and dramas. Most recently, the story was adapted into an Indonesian soap opera using the same title. However, the soap opera was given modern touch and twist with the story took place in modern day Padang and Jakarta.